Cite this page: Tranesh G Basal cell carcinoma. PathologyOutlines.com website. http://www.pathologyoutlines.com/topic/skintumornonmelanocyticbcc.html. Accessed September 24th, 2020.
Definition / general
BCC is most common malignancy of skin, constitutes ~80% of all skin cancers (eMedicine)
Patients with xeroderma pigmentosum, who have a diminished capability for repairing sun induced mutations, develop a large number of basal cell and squamous cell carcinomas (SCCs) early in life
Multiple BCCs develop early in life in patients with basal cell nevus syndrome or Bazex syndrome
Terminology
Trichoblastic carcinoma may be a more accurate term due to its predominant follicular differentiation and possible follicular origin
Epidemiology
~900,000 new individuals are diagnosed with BCC per year in US
Occurs in all races, but much more often in fair skinned people
Usually in patients > 40 years of age
More often in men than in women (male : female = 1.6:1)
Nipple: < 50 cases reported, usually age 60+ years, equal distribution between men and women
Sites
Mainly sun exposed skin, in any hair bearing area (e.g. head and neck)
Also at sites with limited or no sun exposure
Pathophysiology
Mutations of PTCH gene identified in most syndromic and sporadic BCCs
Etiology
Associated with UV light exposure (particularly intermittent intense exposure), history of radiation treatment
Associated with various syndromes: basal cell nevus syndrome; Bazex syndrome; xeroderma pigmentosum
Clinical features
Clinical appearance often parallels the histologic subtype
Most common appearance is a papule or nodule with telangiectasias, which may be eroded or ulcerated (ulcus rodens / rodent ulcer)
Papules of BCC may clinically resemble a nevus, fibroma or folliculitis
Basal cell carcinoma may also manifest as an erythematous patch, papule, nodule or plaque, which is often eroded, ulcerated or indurated
Usually only local growth; may be locally destructive with significant morbidity depending on location and size
Pigmented BCC may mimic a melanocytic neoplasm
Metastases are exceedingly rare (preferred sites: lymph nodes, lung, bones)
Nipple: may behave aggressively with axillary nodal metastases
Variants
:
Common subtypes important to distinguish for management purposes:

Nodular:

Large tumor nodules in the dermis
Generally circumscribed

Superficial:

Tumor nests growing multifocally from the epidermis
Minimal to no component detached in the dermis
Generally multicentric and grows radially / laterally
Arises in skin of trunk and other sites with sparse fine hairs and thin epidermis
Has high recurrence rate, tumors may also regress; candidate for topical treatment

Infiltrative / Morpheaform:

Angulated narrow tumor nests growing in an infiltrative manner at the leading edge of the tumor
Higher recurrence rate
More likely to find perineural invasion
Indication for Moh's microsurgery

Basosquamous (metatypical) carcinoma:

Basal cell carcinoma plus admixed foci indistinguishable from squamous cell carcinoma (NOT the same as focal squamous differentiation in BCC, which is commonly seen)
More aggressive than classic basal cell carcinoma (J Am Acad Dermatol 2009;60:137)
May metastasize
Basal cell nevus syndrome
:
Also called Gorlin's syndrome
Due to mutations in PTCH (patched) gene on 9q22.3
Autosomal dominant, young patients with multiple basal cell carcinomas (with more varied histologic types than normal, often superficial and multicentric, often with osteoid), palmar pits (in situ basal cell carcinomas), dural calcification, keratinous cysts of jaws, skeletal abnormalities, occasional abnormalities of CNS, mesentery and endocrine organs (medulloblastoma, ovarian fibromas)
Prognostic factors
Histologic subtypes: infiltrative, morpheaform, micronodular, basosquamous
Dense fibrous stroma and loss of peripheral palisading
Reduced expression of syndecan-1 and BCL2
Greater expression of p53 and aneuploidy
Perineurial invasion
Positive margins
Treatment
Surgical: saucerization, standard full thickness excision, Mohs micrographic surgery, curettage with or without electrodesiccation, cryosurgery
Medical: topical 5-fluorouracil, imiquimod
Radiation


Nipple:
No consensus - wide local excision, mastectomy, radiation therapy
Patients should be followed up for primary site recurrence and axillary metastasis as there is greater incidence than with BCC at other anatomical sites (Dermatol Surg 2009;35:1771)
Clinical images
Contributed by Mark R. Wick, M.D.
Nipple tumor
Images hosted on other servers:
A basal cell carcinoma on the back
Raised border and central ulceration
Waxy BCC
Nodular with telangiectasias
Atrophy and friability
BCC in 75 year old man
BCC of nose
Red, waxy nodule with visible telangiectasias
BCC "rodent ulcer" in a sun exposed area
Gross description
Reddish tan to pink papules or nodules, with or without central ulceration, often with telangiectasia (prominent subepidermal vessels)
Atrophic to indurated, scar-like lesions typically will show an infiltrative histologic pattern
Microscopic (histologic) description
Basaloid cells with scant cytoplasm and elongated hyperchromatic nuclei, peripheral palisading, peritumoral clefting and mucinous alteration of surrounding stroma
Also mitotic figures, apoptotic bodies
The presence of myxoid stroma and peripheral clefting has been suggested to be most helpful to distinguish BCC from other basaloid tumors
Many secondary features may occur, such as dystrophic calcification, amyloid deposition or inflammatory reactions with or without partial regression
Nipple: proliferating nests of basaloid cells arising from epidermis and extending into superficial dermis and nipple stroma; may involve underlying lactiferous ducts
Other variants of histopathologic interest
:
Clear cell basal cell carcinoma:

Tumor cells with prominent cytoplasmic vacuoles or signet ring morphology

Fibroepithelial tumor:

Also called Pinkus' tumor, fibroepithelioma
Polypoid variant, often on back, with abundant stroma

Granular basal cell carcinoma:

Contains tumor cells resembling granular cell tumor
No clinical significance

Infundibulocystic basal cell carcinoma:

Hair follicle differentiation
Microscopic (histologic) images
Nipple - contributed by Dr. Mark R. Wick
Adenoid
Infiltrative
Images hosted on other servers:
Nodular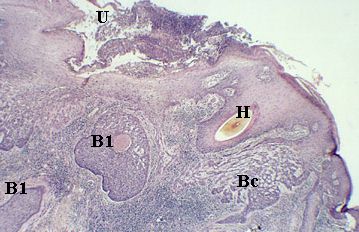 Area of ulceration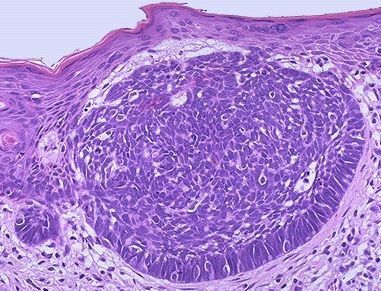 BCC below epidermis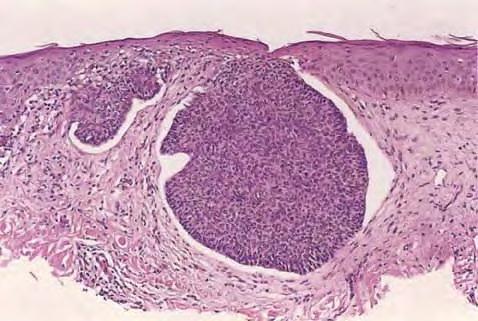 Superficial, various images
Cystic basal cell carcinoma
Micronodular basal cell carcinoma
Superficial basal cell carcinoma
Micrograph of a basal cell carcinoma,
showing characteristic histomorphologic
features (peripheral palisading, myxoid
stroma, artefactual clefting); H&E stain
Forehead lesion
Molecular / cytogenetics description
+18, +9, +20, +7, +5
Also loss of heterozygosity at 9q22.3 and trisomy 6
Back to top